Black's Distillery: Turning Locally-Grown Wheat into High-Quality Spirits
Supported by
Community Futures Peterborough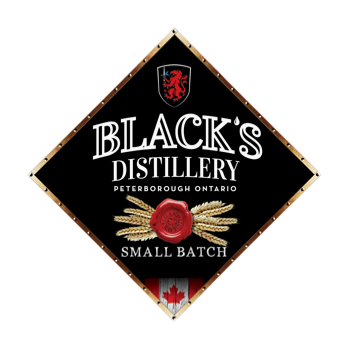 A visit to Lang Pioneer Village as a child left an indelible mark on Robert Black. Little did he know, his fascination with the historic Red Fife wheat and its importance to Peterborough's agricultural community would years later sprout into a unique business idea – Black's Distillery.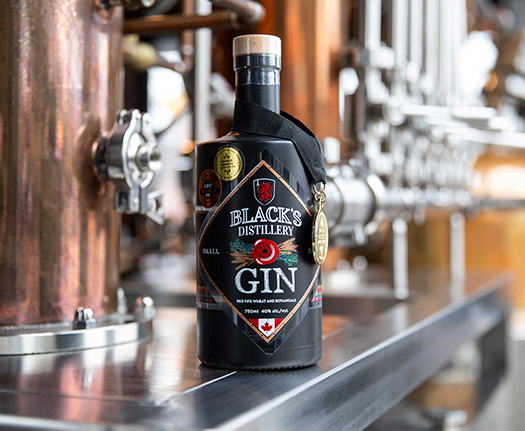 The Problem:
Robert's vision was to create a high-quality spirit from Red Fife wheat, a crop with deep historical ties to the region. As a tool and die machinist, he understood the complex components of distillation, but needed to learn the art of crafting spirits and find a suitable location to set up his distillery.
The Solution:
Undeterred, Robert enrolled in a distilling course in Kelowna, BC, where he learned the essentials of making mash and distilling from grains. He honed a recipe using Red Fife wheat to produce a distinctive-tasting gin from vodka. Upon his return to Peterborough, he found the perfect location for Black's Distillery in the former Video 99 store on Hunter Street East. After extensive renovations to accommodate the copper stills and intricate plumbing system, the distillery was ready to begin operations.
Implementation & Results:
Black's Distillery opened in early March, transforming locally sourced Red Fife wheat from Merrylynd Farm into unique vodka and gin. The spirits, celebrated for their distinct flavours, quickly gained popularity. Robert's gin recipe, perfected through trial and error, features a harmonious blend of juniper, lavender, coriander, cardamom, angelica, cubeb, sage, lemon, and apple. The result is a smooth-tasting spirit perfect for sipping or mixing.
Testimonial:
"This is like a second-career for me," says Robert, 55. "But it's really more of a passion." Black's Distillery sells bottles of vodka and gin at its location at 99 Hunter St. East. "Down the road, we will have an aged rye whiskey and a barrel-aged whiskey," he adds.
Conclusion:
Black's Distillery stands as a testament to Robert's passion for crafting premium spirits from locally-sourced grains. His entrepreneurial journey, backed by a desire to honour his region's agricultural roots, has culminated in a distillery that produces high-quality, distinctive spirits.
Are you an entrepreneur with a unique business idea? Community Futures Peterborough is here to support you.
We provide comprehensive business counseling and flexible financing to help you turn your ideas into reality. Let's grow together.
Call us at 705-745-5434 to learn more about how we can assist you in achieving your business goals.